NerdPhone Features
The many features of our system allow for complete customization and incredible flexibility. Unless otherwise indicated, all features are included!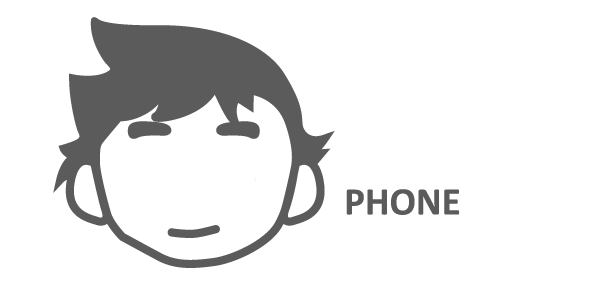 Unlimited calling: The concept of "lines" doesn't exist with our service. You can hide all your users & devices under one phone number or give everyone their own individual phone number. It's up to you! And yes, you can keep your existing phone number.
Customized Phone Wallpaper: Brand your office by putting your company logo on your NerdPhone (see which phones are capable).
Completely customized call system: You can have one menu for when you're open, another for when you're closed and even different greetings specific to holidays. E.g. "Thank you for calling the ABC Insurance Company. You have reached us outside of our normal business hours. Press 1 to file a claim. Press 2 to leave a voicemail. And Press 3 for all other after hours help." Have all your greetings professionally produced with Captive Audience*.
Virtual conference rooms: While the phones are capable of 3-way conference calls, virtual conference rooms allow for much more extensive conference call attendance.
Personalize your on hold music. Have your music on hold professionally produced with Captive Audience*.
Ring groups to customize how calls ring in your office. Even use your music on hold as ring-back audio.
Blacklists to block calls from bothersome numbers.
Caller ID prepending to provide a visual indication of the number dialed or call menu option selected.
Dial by name directory for easy & direct access to a specific employee.
Call barge/whisper: Listen in to a phone call and whisper to your employee without the caller on the other end hearing. Perfect for training!
Call recording: You can either have all calls recorded automatically (small additional cost of $5/user/month) or manual call recording (by dialing a key code during a call – no additional cost).
Voicemail to email: Email notifications of new voicemail messages include a time stamp, the number of the caller, and an attached .mp3 file of the message left. You won't have to waste time calling in to check your voicemails and they can be archived easily for future reference.
You can have dedicated speed dial buttons on your phone to see when your employees are on the phone, even if you aren't in the same office! You can also have intercoms so that you can get a hold of anyone at a moment's notice without screaming across your office!
Extensive call reporting to get information about all the calls into and out of your system. Ask about a daily call summary email report, delivered at the end of each business day!
Install an app on your mobile device(s) that will give you the ability to dial out, showing your work caller ID, not your personal cell number. You can also receive office calls via the app! You can also send & receive text messages via the app!

†

Available for both Android and iPhone.
Install an app on your computer desktop that will allow you to both call and text with your office service.† Available for both Mac and Windows. (+ $2 per app per month)
Free text messaging service$: We can turn your business phone number into a number that can send and receive text messages. That way you can remind your clients of payments or appointments without unnecessary phone calls.
Send and receive text messages with images (+ $5 per number per month).
Click-to-dial integration with the Google Chrome browser. Find a number on a website; click on it; your desk phone lights up and starts dialing the number.
Call forwarding: dial a simple code on your phone as your leave/return to your office or log in to the NerdPhone Admin Portal website.
Similar to our voice service, the electronic fax service allows you to both view & send faxes from anywhere you can connect to the internet – either via the online fax portal website or via email.
*Ask us about a FREE auto-attendant/menu production and/or a FREE on-hold production. Captive Audience is a highly recommended partner.
**These features are functional, but still currently in beta testing. Please call or email for more details! 303.395.3000 | support@nerdphone.net
† Text Messages ONLY. Image messages are only available on the Admin site.
$ Subject to change due to new regulations and requirements for texting with a business number
Award Winning Support
100% U.S.-based, friendly, personable, and accessible staff ready, willing, and able to help with all your Nerdphone needs.
No Contracts!
That's right...NO CONTRACTS! That means that if you decide to hire new employees you can add a phone to your system without extending a contract and if an employee quits you can disable their phone and no longer have to pay for that user.